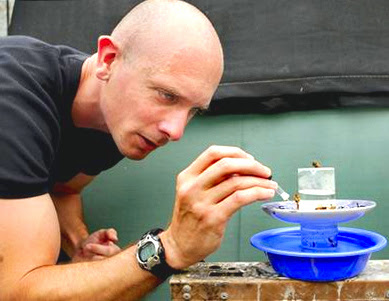 Dr. Andrew Barron, originally from Lincolnshire, studied zoology at the University of Cambridge, where he gained his doctorate, and has since worked at universities in the USA and Australia, having worked at Macquarie University in Sydney for almost 10 years where he is currently Associate Professor in the Department of Biological Sciences. His current interests are split between studying the neurological systems of bees and ants including developing mathematical models of honeybee brains, and also, in response to the recent colony collapse phenomenon, he is now studying how to improve the resilience of honeybees to the likely causative factors.
Having already given a lecture at Sheffield University recently on the first topic, he came to the SBKA meeting on 11th July to talk on matters arising from the second. In spite of the clash with the screening of the football match between England and Croatia a surprisingly large number of members attended. Australia is one of the very few places not as yet invaded by the varroa mite, this has enabled a study there of the effects of thymol, currently used as a treatment against varroa, on the honeybees themselves (and not efficacy against the mites).
One cohort received the treatment as prescribed by the manufacturers, while the control cohort received no treatment. The bees in those colonies thus treated suffered a knock down in colony growth from which they did not fully recover later in the season, and some were adversely affected even to early the following year. This was not found in the control group. (This would presumably affect the number and quality of vital winter bees in the UK.)
Those exposed to the treatment as larvae were neurologically damaged and never performed well afterwards. There was an effect on the hygiene behaviour of house bees, and the uncapping and removal of faulty larvae increased by some 40%. Unfortunately however, the activity was then less discriminatory, with healthy larvae becoming involved as well as unhealthy. Perhaps this is not surprising as both bees and mites are arthropods having similar neurological features.
Although not yet tested, it is thought that probably all other known chemical treatments, such as oxalic acid, formic acid and amitraz, may prove to have similar deleterious effects on bees.
Factors affecting the performance of foraging bees were then raised. Very sophisticated technical experiments had been carried out involving the identification of foragers, weighing them and timing them on leaving and returning to their hives. The investigators became frustrated that they were unable to measure the pollen loads of returning bees as they were lighter on return than when they had left. This was because the bees loaded up with heavier nectar before leaving to fuel their forthcoming flights and returning empty.
The investigation revealed that it is most important that the worker bees are able to go unstressed through the whole normal development process before becoming foraging bees. Stressed colonies where foragers die prematurely forces younger bees to forage too early. They are then inefficient, may only do a handful of trips and then die or get lost, whereas 'normal' experienced foragers are very efficient and may do a hundred or more trips before they die. 20% of them do 50% of the work. However, anything that stimulates an immune response in the foragers (and they are very sensitive) will curtail collection of pollen.
With regard to the other topic of research interest, it was mentioned that a variety of ideas to help beekeepers overcome their more recently arisen problems are currently under active investigation and consideration for practical application.